Breaking! Alexandre Lacazette and Pierre-Emerick Aubameyang To Sign New Contract On One Condition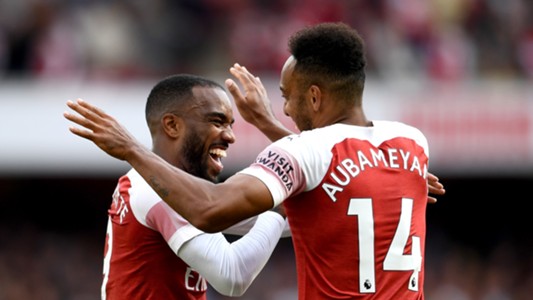 Arsenal strikers Alexandre Lacazette and Pierre-Emerick Aubameyang are said to be stalling over the respective contract offers received from the club.
This is according to the publication from the Daily Mail which revealed that the two Arsenal strikers will maintain their stance of no contract extension until Gunners manager Unai Emery has been sacked.
Arsenal manager Unai Emery is under a lot of pressure to keep his job after the poor run from recent games either side of the November international break.
Unai Emery and his Arsenal wards are on a poor run of six games without victory in all competitions since the 3-2 Europa League win over Portuguese Super League club Vitoria Guimares last month.
The last league victory for Arsenal came against Bournemouth at the start of last month.
Summer signing David Luiz scored the only goal of the game as Arsenal beat Bournemouth 1-0 at home.
Since the win over the Cherries at the Emirates Stadium, the Gunners have gone five games without a win including the 2-2 home draw against Southampton at the weekend.
Pierre-Emerick Aubameyang and Alexandre Lacazette have been a regular source of goals for Arsenal in the last two years.
Both players have 12 league goals between them this season.
Arsenal fans pick this Argentine as Ozil's replacement
Arsenal fans have picked Norwich City star Emiliano Buendia as the player of their choice to replace Mesut Ozil when he leaves the club.
Emiliano Buendia has been fantastic for Norwich City and known to be very skilful, a player Arsenal fans have pointed as a good replacement for the former Real Madrid player.
After a sensational performance last season, he is now in the Premier League for the first time and has handed seven assists so far.
Arsenal fans are of the opinion that Mesut Ozil should be doing what the skilful player does and should be shown the exit door if he can not deliver.
The German international has not been stable with the Arsenal team and issues of his weekly wage, and his performance have been drawn into controversies a number of times.
Many have called him out over his performance and there have been talks from some quarters of him leaving the club.
Mesut Ozil has been unmoved by the criticisms and has stressed a number of times that he will see out his contract at the Emirates Stadium.
Apparently, he has been supported by manager Mikel Arteta to still perform but it is very unlikely he will have his contract extended.