Cardano's value fell by 15% this October, even as Bitcoin and Ethereum surged. The market wasn't happy with Cardano after its price diverged so much from other cryptocurrencies during such an exciting time in crypto history.
Cardano's price has been on a downward trajectory for overs six weeks, closing below the opening every single day. It's currently challenging its own historical bearish near-term record of the shortest period without an upward movement in primary market cap value to beat it.
However, It is possible that a breakout could bring about massive price spikes, but it has been so long since the last one.
Cardano Price
The Cardano price is $1.96 with a 24-hour trading volume of $2,466,162,178, and it's up 0.09% on the last day. The cryptocurrency market has seen some slight gains today.
The Cardano price has been in a bearish trend for the last few weeks, with 35% of its value lost since reaching an all-time high. It's currently trading near support at $1.96 per ADA and has fallen below the 25 days moving average (MA), also 50 DMA too; it might be due for some recovery soon, though.
Cardano ADA Price Prediction
The Cardano project is developing a bear trap pattern, and ADA has been trading in the $2 range for over two months now. This means that there could potentially be another spike higher to $3.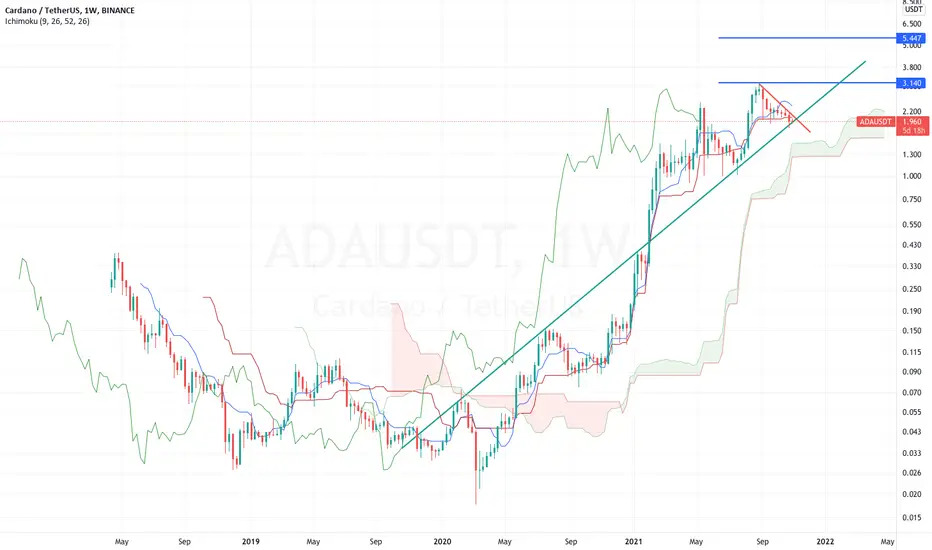 The WalletInvestor is feeling confident about the future of the ADA coin. They see it rocketing up to $4.52 by October 2022.
The digital asset has seen some nice gains earlier, and investors are excited because analysts predict that if trends continue, its value could reach as high as four dollars within next year's calendar date.
In addition, CoinPriceForecast sees things ramping up significantly before the year is through and predicts that ADA will close out 2021 with a rise up to 3$.
Furthermore, The Economy Forecast Agency is looking for ADA coins to drop significantly in value by December. By October of next year, though, they think this cryptocurrency may be closer to breaking out above the all-time high set earlier. They have predicted that it will reach $3.47 per coin at best.